Carrie Stevens is an American actress and model. She was born in Buffalo, NY and grew up in the small town of Hardwick, Massachusetts. She studied Journalism at Memphis State University while modeling locally before packing her bags headed for Hollywood. Carrie has been enjoying many years of landing dream jobs gigs on hit TV shows, in major motion pictures and appearing in major magazines such as Cosmopolitan, Glamour, Allure, and of course Playboy Magazine as Miss June 1997.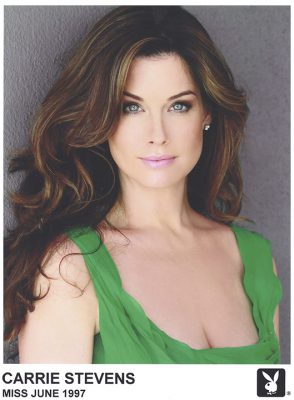 You have probably seen Carrie Stevens on the big screen and small, opposite Emmy winners Charlie Sheen and Jennifer Aniston, as well as Oscar winner Hilary Swank. She also appeared in "Rock Star" with Mark Wahlberg. She has starred in independent films opposite exciting celebrities such as Jennifer Love Hewitt, John Taylor (Duran Duran) and Don "The Dragon" Wilson. Carrie has had numerous guest star and recurring roles on television shows. You may have seen her on "Two and a Half Men", "Beverly Hills 90210" or "Days of Our Lives", or Sci-Fi's "Black Scorpion". She has hosted three one-hour shows for E! Entertainment Television", including 'Wild On" and "FYI". You might also remember her as the girl climbing the human chain as she starred in Third Eye Blind's "Never Let You Go" music video.
Some of Carrie Stevens' commercial ads include Lexus, Miller Ice, Starwood Resorts, Cyberswim, Toyota, Little Caesar's, Killian's Irish Red Beer, American Laser Centers, Obagi Skin Care, Botox, Graco Strollers, and Ferro Cosmetics.
Rock Star
Ghode's Wife Daphne
(2001)
Longshot
Waitress
(2001)
Redemption
Tara
(2002)
Black Scorpion
Celeste McCloud
(2001)